Upcoming Events at Stringtown Farms
MAY IS MOM'S MONTH! To celebrate your Mom, join us for wine and cheese tasting at the farm. The farm is open every Friday, Saturday, and Sunday, 10 am to 5 pm.
Around and About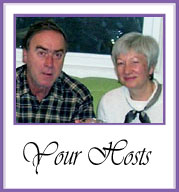 ~ Our Recipes ~

( Select Name to View)
Wine-Poached Salmon
About 1 pound of salmon fillet, or 2 - 1 inch thick salmon steaks
1 T. olive oil
1 to 2 c. Gewurztraminer wine (or other semi-dry white wine)
3 garlic cloves
2 small bay leaves
A small bunch of fresh parsley
Salt & pepper to taste
Heat olive oil in a large lidded skillet over medium-low heat. When hot, place salmon in the skillet (skin side down for fillets). Being careful to avoid spattering, pour in the wine to almost cover the salmon and add the garlic and bay leaf. Season to taste with salt and pepper. Bring the wine to a simmer, then cover, reduce heat, and cook slowly for about 10 to 15 minutes or until the fish flakes easily. Garnish with chopped parsley. Serves 2.