Upcoming Events at Stringtown Farms
NEW WINE: We're releasing our new Gewurztraminer wine, a smooth, semi-dry white wine with lovely spice notes. Come out and give it a try!
RECIPE: See the recipe for Smoked Cheese Egg Skillet made with smoked gouda. Yum!!
Around and About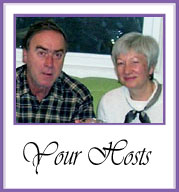 Chilled Avocado-Lavender Soup
Chilled Avocado-Lavender Soup
1 c. mashed ripe avocado (2-3 small avocados)
2/3 c. plain yogurt (plus more for garnish)
2/3 c. chicken or veggie broth
1 T. fresh lemon juice
1/2 t. onion powder
1/2 t. salt
dash of Tabasco
1 t. ground lavender buds
finely chopped parsley for garnish
Add avocado and yogurt to a blender and puree until smooth. Add remaining ingredients and blend well. Chill. Serve soup chilled, garnished with a dollop of yogurt and a sprinkle of parsley. Makes 2 to 3 servings.
---
John Adams
Mailing Address: 9121 Stringtown Road Eatonville, Washington 98328
360-832-4743
stringtownfarms@stringtownfarms.com
---