Upcoming Events at Stringtown Farms
U-CUT LAVENDER AVAILABLE! The farm's lavender is now blooming and available for u-cut. Come on out to cut fresh lavender, sample the wine and smoked cheese, and have a picnic!
Around and About
ORTING VALLEY FARMERS MARKET. We are at the Orting Valley Farmers Market every Friday, through September 1, from 3:00 pm to 7 pm. Come out and sample wine and shop our lavender products!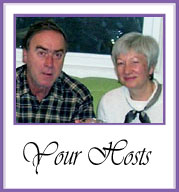 Asparagus with Lavender and Mustard
1 lb. asparagus stalks, medium thickness
1 T. olive oil
1 t. prepared Dijon-style brown mustard
1/2 t. cumin
1-1/2 t. Bragg liquid aminos (or reduced-salt soy sauce)
1/2 t. Meyer lemon juice
1 t. water
1/2 t. crushed lavender buds, divided
In a small bowl, mix together the mustard, cumin, 1/4 t. of the lavender, liquid aminos, lemon juice, and water. Set aside. Snap off the ends of the asparagus stalks and cut the stalks into 2 inch lengths. Heat oil in a 10 inch saute pan and add asparagus in a single layer. Saute 2 minutes, stir, and continue cooking another 2 minutes. Reduce heat to medium and cover pan. Cook for 2 minutes. Stir in mustard mixture to coat asparagus. Cook and stir 1 minute (or more to reach desired tenderness). Serve garnished with a sprinkling of crushed lavender buds. Makes 2 or 3 servings.
---
John Adams
Mailing Address: 9121 Stringtown Road Eatonville, Washington 98328
360-832-4743
stringtownfarms@stringtownfarms.com
---