Upcoming Events at Stringtown Farms
U-CUT LAVENDER AVAILABLE! The farm's lavender is now blooming and available for u-cut. Come on out to cut fresh lavender, sample the wine and smoked cheese, and have a picnic!
Around and About
ORTING VALLEY FARMERS MARKET. We are at the Orting Valley Farmers Market every Friday, through September 1, from 3:00 pm to 7 pm. Come out and sample wine and shop our lavender products!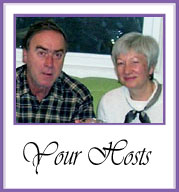 Smoked Cheese Cauliflower Soup
1 small head of cauliflower, cut into small florets
1 shallot, sliced
1 T. olive oil
32 oz. vegetable or chicken broth
1/4 t. dried rosemary
1/8 t. each salt and fresh black pepper
1 c. shredded smoked cheddar cheese (about 4 oz.)
1 T. dried lavender buds for garnish
Heat the olive oil in a large saucepan over medium heat. Add the shallot and cauliflower and saute for 3 or 4 minutes until vegetables begin to soften. (Alternatively, toss the cauliflower in 1 T. olive oil and roast on a parchment-covered baking sheet for 15 minutes at 425 degrees. Add to the sauteed shallots.) Add the broth, rosemary, and salt and pepper. Bring to a boil, reduce heat and simmer for 10 minutes or until cauliflower is tender. Puree the soup in small batches in a blender or using a hand blender. Return soup to the pan and stir in the cheese. Heat over low heat, stirring frequently, until cheese is melted. Garnish each serving with a pinch or two of lightly crushed lavender buds. Makes 3 or 4 servings.
---
John Adams
Mailing Address: 9121 Stringtown Road Eatonville, Washington 98328
360-832-4743
stringtownfarms@stringtownfarms.com
---