Upcoming Events at Stringtown Farms
Wine: Just released the new lavender honey wine and Farmhouse Rose. Come out and try them!
Hours: The wine tasting room/lavender gift shop is open Friday through Sunday, 10:00 am to 5 pm.
Around and About
ORTING VALLEY FARMERS MARKET OPENS JUNE 8, 3 - 7 PM. SEE YOU THERE!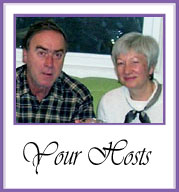 Lavender Spiced Bread Pudding
1/4 c. sugar
2 t. dried lavender buds
1/2 t. grated lemon zest
1/4 t. each cinnamon and nutmeg
6 slices day-old bread, with crust removed
¼ c. soft butter
3 eggs
1 c. nonfat vanilla yogurt
1½ c. nonfat milk
Mix the sugar, dried lavender buds, and lemon zest with your fingers, rubbing the buds and zest to release the oils into the sugar. Stir in the cinnamon and nutmeg and set aside. Butter a 9x5 inch baking pan. With the remaining butter, butter the bread and cut the bread into strips. Layer the strips in two layers in the baking pan. Whisk together the sugar mix and eggs until frothy and sugar is dissolved. Add the yogurt and milk and whisk until well mixed. Pour the milk mixture over the bread and let stand for 15 minutes. Bake at 300 degrees for 1 hour and 15 minutes. Serve warm. Makes 6 servings.
---
John Adams
Mailing Address: 9121 Stringtown Road Eatonville, Washington 98328
360-832-4743
stringtownfarms@stringtownfarms.com
---