Upcoming Events at Stringtown Farms
CHRISTMAS TREES AVAILABLE! Come out to select and cut your favorite tree, from small to tall Noble or Douglas firs. Some pre-cut trees are also available. We provide hand saws.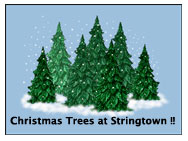 NEW! Get your own mushroom log, made locally in Ashford, WA. The logs are ready to produce edible, gourmet mushrooms several times a year. All you do is water the log! Great for Christmas giving.
Around and About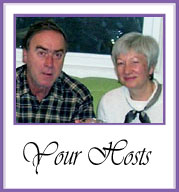 Raspberry Lavender Sorbet
1 cup sugar
1 cup water
¼ c. light corn syrup
2 T. dried lavender buds or 10 fresh lavender flower heads
1 quart fresh or frozen raspberries (or use other fresh or frozen berries, such as strawberries, blackberries, or blueberries)
4 T. fresh lemon or lime juice
Mix the sugar, water, and corn syrup in a sauce pan. Bring the sugar mixture to a boil, then reduce heat and add lavender. Simmer for 5 minutes. Remove from heat, cover and steep for 20 to 30 minutes. Strain the mixture to remove the lavender. Refrigerate the sugar mixture in a large bowl. Combine the raspberries and lemon juice in a blender or food processor and pulse until fruit is completely pureed. Press the puree through a fine mesh sieve to remove the seeds. Mix the seedless puree into the sugar mixture and chill for one hour. Freeze the chilled sorbet mix in an ice cream machine, following manufacturer's instructions. (Or pour the sorbet into a freezer-proof container and freeze for about 4 hours, stirring once an hour.) Makes 5-6 cups.
---
John Adams
Mailing Address: 9121 Stringtown Road Eatonville, Washington 98328
360-832-4743
stringtownfarms@stringtownfarms.com
---