Upcoming Events at Stringtown Farms
LAVENDER & ART EVENT: Come out to the farm on Saturday and Sunday, July 6 & 7, for our annual Lavender & Art Event, co-hosted by Lucus Art Gallery. The event features booths displaying arts and crafts, a BBQ serving great food, and local live music You'll enjoy the scent of lavender in the air while you visit the various artists and shop their creations. You can also cut fresh lavender, sample wine and smoked cheese, grab some food (we have picnic tables), and enjoy the sunshine. Great local outing and family friendly!
U-CUT LAVENDER: Starting July 4, the farm is open for u-cut lavender every day from 10 am to 5 pm. Several varieties of lavender are beginning to bloom, and others will be blooming soon if we get warm weather as expected. Lavender season may be short again this year!
Around and About
ORTING VALLEY FARMERS MARKET! We'll be at the OVFM every Friday, 3 to 7 pm, through September 27. Stop by for wine and cheese tasting at the market or at the farm.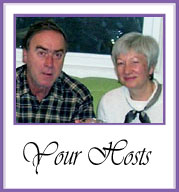 Wine-Poached Salmon
About 1 pound of salmon fillet, or 2 - 1 inch thick salmon steaks
1 T. olive oil
1 to 2 c. Gewurztraminer wine (or other semi-dry white wine)
3 garlic cloves
2 small bay leaves
A small bunch of fresh parsley
Salt & pepper to taste
Heat olive oil in a large lidded skillet over medium-low heat. When hot, place salmon in the skillet (skin side down for fillets). Being careful to avoid spattering, pour in the wine to almost cover the salmon and add the garlic and bay leaf. Season to taste with salt and pepper. Bring the wine to a simmer, then cover, reduce heat, and cook slowly for about 10 to 15 minutes or until the fish flakes easily. Garnish with chopped parsley. Serves 2.
---
John Adams
Mailing Address: 9121 Stringtown Road Eatonville, Washington 98328
360-832-4743
stringtownfarms@stringtownfarms.com
---