Upcoming Events at Stringtown Farms
MAY IS MOM'S MONTH! To celebrate your Mom, join us for wine and cheese tasting at the farm. The farm is open every Friday, Saturday, and Sunday, 10 am to 5 pm.
Around and About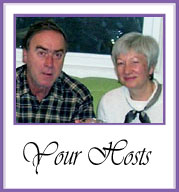 Lavender Honey Asian-Inspired Salad
4 c. lettuce, torn into bite-sized pieces (Romaine or butter)
1 c. Napa cabbage, finely shredded
1 ripe mango, peeled and chopped
1 ripe avocado, peeled and chopped
1 medium tomato, chopped (or ½ c. grape tomatoes, halved)
½ c. dark seedless grapes, halved
3/4 c. sliced fresh green beans
3/4 c. finely sliced carrots and/or cucumber
1 T. fish sauce
3 T. fresh lime juice
1 T. lavender honey
1/8 t. sweet chili sauce (or more to taste)
1 crushed garlic clove
Mix the fish sauce, lime juice, honey, and chili sauce until well blended. Add the garlic and set aside. Prepare a bed of lettuce on a large platter or plate. Layer the prepared vegetables and fruit on the lettuce bed. Pour the dressing over the salad. Toss gently just before serving. Makes 4 side servings.
---
John Adams
Mailing Address: 9121 Stringtown Road Eatonville, Washington 98328
360-832-4743
stringtownfarms@stringtownfarms.com
---