Upcoming Events at Stringtown Farms
FARM TOUR & POKER RUN: On Saturday, September 8, the farm is participating in the Orting Valley Farmers Market Farm Tour & Poker Run. The "run" begins at 1:00 pm at Sunrise Village Shopping Center, South Hill, Puyallup. For more information and tickets, stop by the Market on Fridays, 3 - 7 PM. Some tickets are also available at Stringtown Cellars & Lavender Farm. Proceeds will help support operation of the Market.
RECIPE: See the recipe for Lavender Blackberry Cobbler!!
Around and About
LAST FARMERS MARKET! ORTING VALLEY FARMERS MARKET ON FRIDAY, SEPT. 7, 3 - 7 PM. SEE YOU THERE!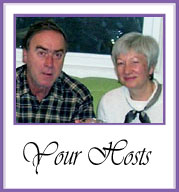 Lavender-Herbed Deviled Eggs
6 large hard-cooked eggs, peeled and halved lengthwise
3 T. plain Greek yogurt
1 T. mayonnaise
2 t. coarsely ground lavender buds
1 T. finely snipped chives
1 t. fresh lemon juice
1 t. Dijon-type mustard
1/8 t. each salt and pepper (or to taste)
Cayenne pepper for garnish, if desired
Remove egg yolks to a medium bowl and set aside the egg whites. Mash the yolks with a fork and stir in the remaining ingredients (except cayenne) until well blended. Spoon the yolk mixture into the egg white halves and, if desired, sprinkle with a pinch of cayenne.
---
John Adams
Mailing Address: 9121 Stringtown Road Eatonville, Washington 98328
360-832-4743
stringtownfarms@stringtownfarms.com
---